One of the most important aspects to designing a vSphere environment is choosing what licensing level you are going to be using. VMware lists the licensing information for VMware vSphere editions available on their website side by side to help customers draw a comparison.
There are three versions of VMware vSphere:
VMware vSphere Standard
VMware vSphere Enterprise Plus
VMware vSphere Platinum
When it comes to comparing versions of VMware vSphere, the most differences are between VMware Standard, and VMware Enterprise Plus.
First, we are going to focus on comparing those two additions, so you understand what they are each capable of.
Then we will talk about VMware vSphere Platinum, which builds on the features of VMware vSphere Enterprise Plus. It adds another layer of security with the addition of VMware App Defense.
Note: VMware vSphere Enterprise Plus with Operations Management is no longer available as of February 1, 2019.
Whichever VMware vSphere edition you choose, you are going to need VMware vCenter Server to manage it.
There is one edition of VMware vCenter Server when it comes to these versions of vSphere, and that is vCenter Server Standard Edition. It is important to note this is a separate license from vSphere, but you will not need to worry about what VMware vSphere edition to purchase.
VMware vSphere Standard vs VMware vSphere Enterprise Plus
When performing a vSphere license comparison, the first step is deciding which features are in each VMware vSphere edition. If are already familiar with VMware vSphere, the best way to get a quick understanding of the features included in each license edition is to visit the VMware Store for each edition of vSphere.
You will want to take a look at the "What's Included" section for both VMware vSphere editions. You can learn more about VMware vSphere Standard here and VMware vSphere Enterprise Plus here.
To make it a little easier for you, I have created this graphic which tells you what is included in the two VMware vSphere editions. Think of this as a quick and easy to use VMware ESXi licensing matrix. The vSphere features in bold are unique to vSphere Enterprise Plus, and the rest of the features are also available in vSphere Standard.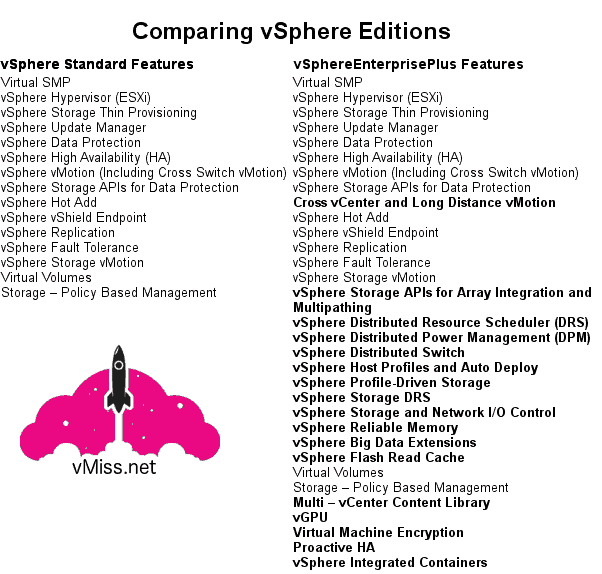 What About VMware vSphere Platinum?
You may have heard about a new version of VMware vSphere called vSphere Platinum. VMware vSphere Platinum builds on top of VMware vSphere Enterprise Plus. With vSphere Platinum, you receive all of the vSphere Enterprise Plus features plus VMware App Defense.
VMware App Defense is all about gaining control of security events in your infrastructure, and protecting your organization from security threats.
It allows the VMware vSphere team and the IT security team to work together with the easy to use VMware App Defense vCenter Plugin, while the IT security team uses the VMware App Defense interface.
For more about vSphere Platinum, be sure to read this in-depth guide.
Understanding the Difference in VMware vSphere Editions: vSphere Standard vs vSphere Enterprise Plus
As you can see from the above vSphere licensing matrix, you can do quite a lot with VMware vSphere Standard, and for many use cases it will meet your business requirements. On other hand, there is quite a bit of the magic VMware vSphere brings to the table with the vSphere Enterprise Plus edition.
Here are some of my favorite vSphere Enterprise Plus features, and why I think they are worth the premium price tag.
vSphere Distributed Resource Scheduler (DRS)
VMware DRS is one of the most useful features of vSphere clustering. DRS's job is to balance resources across the cluster in order to ensure your virtual machines are getting what they need, and aren't impacting other virtual machines negatively.
This means less worrying about where things are running, and ensures you don't need to waste time attempting to manually balance a workload. It also means you won't get paged in the middle of the night if a bunch of virtual machines really get going.
vSphere Distributed Switch
vSphere networking is one of those things that everyone likes to do slightly differently. Some of my favorite features are the Route based on physical NIC load load balancing policy, also known as Load Based Teaming. It is one of the simplest and most powerful ways to configure NIC teaming in VMware vSphere.
This policy is the only one which takes the load on the physical uplink into consideration, which can make your configuration even more dynamic. The vSphere Distributed Switch can also shape inbound traffic, and supports Private VLANs (PVLANs).
The vSphere distributed switch is also managed centrally vs on each ESXi host, which makes life easier for administrators. You can also back up your Distributed Virtual Switch configuration and restore it in case of a disaster, or use it to make setup of your next environment even easier.
vSphere Host Profiles and Auto Deploy
Anyone who's had to configure ESXi hosts over and over and over again knows it can be a drag if you're doing it manually.
The same goes for installing them. The combination of Host Profiles and Auto Deploy can streamline your ESXi provisioning process, which can save many, many tedious hours. It is also very easy to see if your host is compliant with its attached profile in VMware vCenter, and you can also have vCenter alert you to any changes in configuration.
vSphere Storage and Network I/O Control
These are great features to help ensure each virtual machine gets its share of resources during contention. They can require some tuning to find the best parameters with your environment, especially Network I/O Control, but your time is much better spent here than installing and configuring ESXi hosts one by one.
More vSphere Enterprise Plus and vSphere Platinum Features
These, of course, are not all of the features of vSphere , just the ones I've found myself using the most, and provide the most bang for the buck.
The following features make the case for vSphere Enterprise Plus pretty cut and dry. If you have a business need driving them, you are going to need Enterprise Plus.
vGPU
Virtual Machine Encryption
Cross vCenter and Long Distance vMotion
vSphere Standard vs vSphere Enterprise Plus – The Comparisonn
If you look at the features in vSphere Standard compared to vSphere Enterprise Plus it really boils down to one thing: Manageability. When you look at the vSphere Enterprise Plus features we just reviewed, they are all features that make the lives of vSphere operators and administrators much easier.
Operational efficiencies become especially important when vSphere environments become larger. The vSphere Enterprise Plus features make it easier to manage a big vSphere environment with less effort.
If you end choosing vSphere Enterprise Plus due to needing one of the above features, you will also be able to take advantage of all the other great vSphere Enterprise Plus features, which is a huge bonus. Once you purchase vSphere Enterprise Plus, you have access to every feature listed, not just the ones you used to make your business case.
If you are looking to justify vSphere Enterprise Plus in your environment, I hope I have given you some ideas. Be sure to look at the full list of features and see where you can take advantage of them. You will be able to find many synergies on the deployment and administration front alone. I have only briefly touched on the vSphere Enterprise Plus features, so stay tuned for more information.
Additional VMware vSphere Editions
Besides vSphere Standard, vSphere Enterprise Plus, and vSphere Platinum, there a a few other vSphere editions out there to be aware of. The vSphere editions we have talked about in this guide are aimed towards the data center.
If you ware working with smaller sites, such as sites up to 25 virtual machines, be sure to take a look at VMware vSphere Remote Branch Office Editions.
For smaller organizations and environments, VMware vSphere Essentials can be the way to go.
No matter what edition of VMware vSphere, all VMware vSphere versions provide the same unprecedented virtualization features and functionality. When it comes to comparing vSphere editions, VMware has ensured there is a VMware licensing edition for all organizations. The question is which version suits your organization's requirements the best.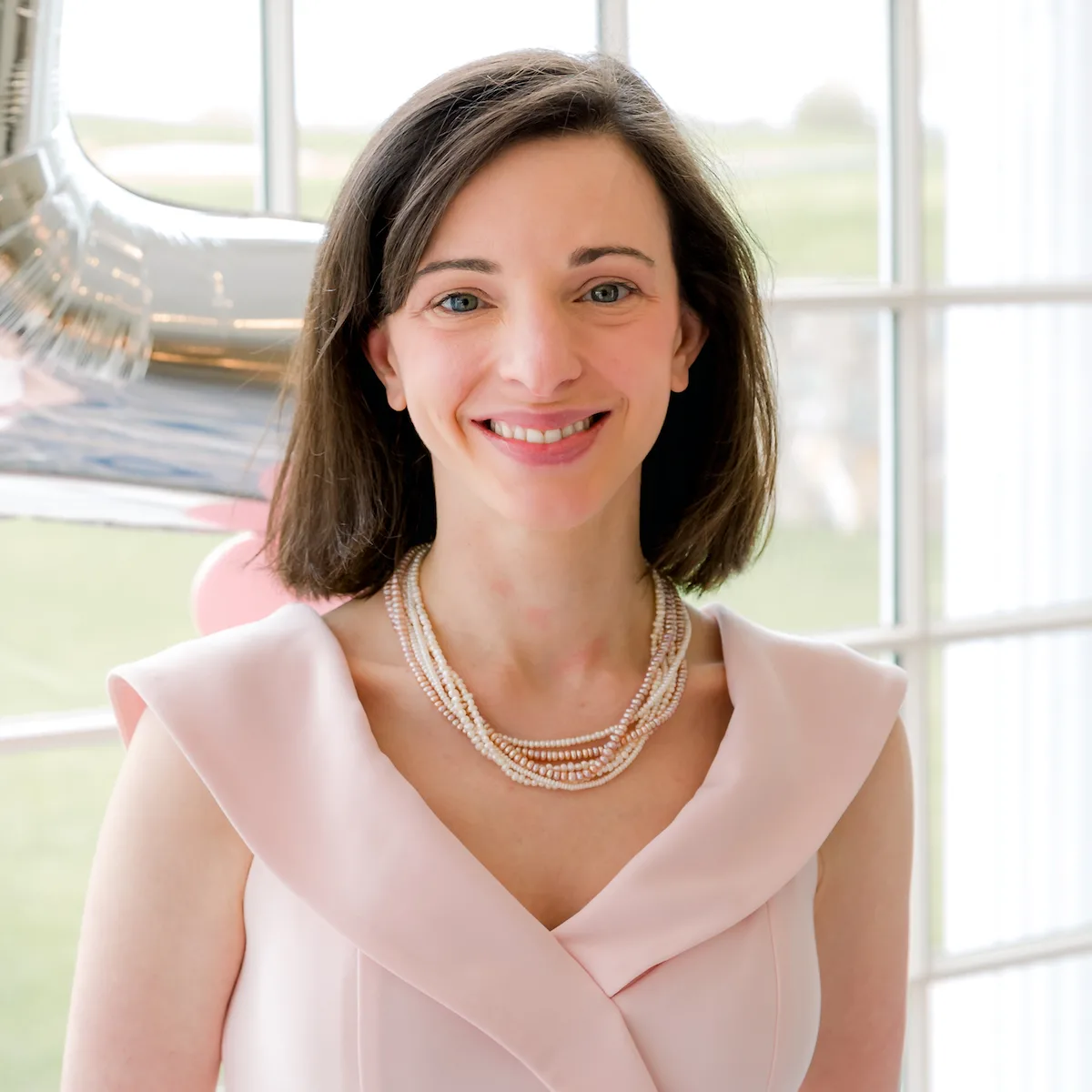 Melissa is an Independent Technology Analyst & Content Creator, focused on IT infrastructure and information security. She is a VMware Certified Design Expert (VCDX-236) and has spent her career focused on the full IT infrastructure stack.