Virtualization has become prevalent in all areas of our infrastructure, from the datacenter, to our remote offices. Virtualizing the ROBO (a common term used for remote or branch offices) brings additional challenges to organizations, beyond just the initial deployment.
One of the most difficult aspects of vSphere ROBO management can be justifying the licensing costs to provide a redundant infrastructure in remote office. VMware vSphere Remote Brach Office editions solve this problem by providing an alternate licensing model for small VMware vSphere deployments and ROBOs.
What is vSphere ROBO?
vSphere ROBO is simply a different way of consuming VMware vSphere licenses than the model most are used to for larger environments.
Instead of host based licensing, VMware ROBO editions are licensed by the number of Virtual Machines. This license covers 25 virtual machines, which may be split between sites or hosts.
Many times, it can be difficult to justify licensing a vSphere host when there won't be that much running on it. vSphere Remote Branch Office editions solve this problem, allowing for organizations to take advantage of vSphere clustering features for even the smallest deployments.
In addition, vSphere ROBO allows you to manage your remote hosts from your centralized vCenter deployment. vSphere ROBO comes in two editions: Standard and Advanced.
VMware ROBO Licensing: Comparing VMware vSphere ROBO Standard vs Advanced
It is important to remember there are a number of considerations when it comes to VMware ROBO licensing. You can see a feature comparison of VMware ROBO Standard vs advanced in this image: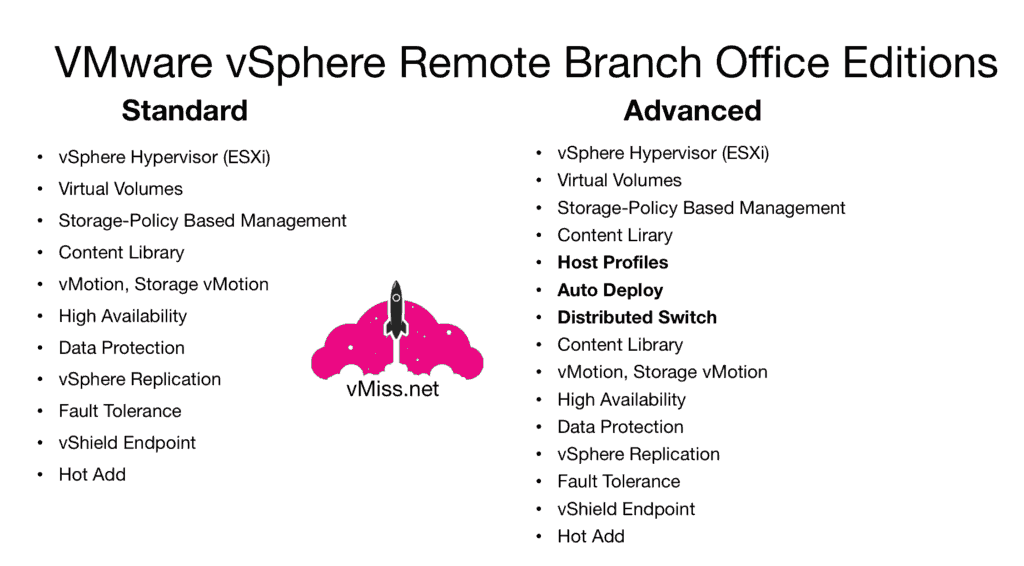 In terms of remote management and deployment, vSphere ROBO advanced adds Host Profiles and Auto Deploy. If you are currently using these features in your VMware vSphere environment, using them in your remote and branch offices make sense.
However, if you are not, you may be better off selecting VMware vSphere ROBO Standard. The other feature to think about is Distributed Switches, which is a part of VMware vSphere ROBO Advanced.
VMware ROBO Pricing
VMware ROBO pricing is as follows: the list price of VMware ROBO Standard in USD is $3,000.00, and the list price of VMware ROBO Advanced is $4,500.00, which does not include support. Remember, this is per 25 virtual machines, and not ESXi host hardware.
Be sure to refer to the above VMware ROBO Standard vs Advanced comparison chart above.
Performing a comparison of VMware ROBO editions is key to selecting the right solution for an environment.
Remember, this is the list price, and it is very important to talk to your VMware sales representative to see if you can get a better deal on VMware ROBO.
Key Differences Between VMware ROBO Standard and VMware ROBO Advanced
As you can see the features unique to VMware vSphere ROBO Advanced licensing are as follows:
Host Profiles
Auto Deploy
Distributed Switch
These are all features that make managing a VMware vSphere ROBO easier. If you are faced with managing and deploying many VMware ROBOs, vSphere ROBO advanced may be the right choice for you.
It is important to understand the effort required to set up a VMware ROBO environment that meets your specific requirements so you can determine if the extra cost of vSphere ROBO licensing advanced can be justified.
Since the features included in VMware ROBO licensing advanced relate to manageability, be sure and think about how long it will take to do these administrative tasks.
For example, if it takes one team member two weeks to configure your VMware ROBOs, it may make sense to spend the extra money on the higher level of VMware ROBO licensing, vSphere ROBO Advanced.
From a list price perspective, vSphere ROBO Advanced is more cost effective than licensing vSphere Enterprise Plus, which has a list price of USD $3,495.00 per processor.
If your ESXi host has more than one processor, this cost can quickly add up. vSphere ROBO eliminates this problem, and allows for multiple hosts to be deployed.
One key reason this is recommended is to take advantage of vSphere High Availability in order to protect against host hardware failure.
Need a refresher on what is included with vSphere Enterprise Plus Features? Be sure to check out Comparing vSphere Editions: vSphere Standard and vSphere Enterprise Plus.
vSphere Remote Branch Office editions simplify licensing for remote sites and branch offices. By allowing for the virtual machines to be split across multiple sites, customers can also take advantage of VMware vSphere to protect critical servers from hardware failure for even the smallest sites with very few servers.
Without vSphere Remote Branch Office, this would not be economical from a licensing perspective.
Remember, as we discussed above, the vSphere ROBO licensing model is to simply purchase licenses in packs of 25 virtual machines, which can be spread across ESXi hosts and sites as needed.
vSAN ROBO
Just like it is hard to justify licensing a vSphere host by sockets when they don't have many workloads on them, the same can be said of VMware VSAN.
vSAN ROBO addresses this just like vSphere ROBO does, by allowing you to license VMware VSAN based on the number of VMs in your ROBO cluster, not based on the host itself.
This is actually a huge advantage, and can really change the game for many ROBO customers.
By leveraging vSAN ROBO you will simply your vSphere ROBO deployment.
Two ESXi hosts and network connectivity are pretty much all you need to have vSphere up and running.
In this case, you would deploy a 2 node vSAN cluster with the witness virtual appliance. This saves a great deal of money, since you no longer need to purchase a storage array, and also simplifies design, deployment, and operations.
VMware ROBO Design Considerations
One of the most compelling features of VMware vSphere is VMware High Availability. VMware High Availability protects against ESXi host hardware failure by placing vSphere ESXi hosts into clusters, which are then managed by VMware vCenter Server.
You must have at least two ESXi hosts to create a vSphere Cluster. If you have virtual machines that must remain running in the event of a hardware failure, you will want to have multiple VMware vSphere hosts in your ROBO office.
If you are going to use a configuration of two ESXi hosts, it is important to look at their performance. If you are using more than 50% CPU or Memory resources on either host, you may be looking at degraded performance in the event of a host failure.
Of course, we also need shared storage to have a vSphere cluster. This requires some sort of external storage array. These devices can pricey, and also overkill if you are not running anything else in a VMware ROBO office.
On the other hand, you can purchase storage devices that can act as file shares for users, and serve storage to other applications beyond the vSphere ROBO Site.
One of the simplest options available would be to deploy a 2 node VMware vSAN cluster and leverage the VSAN ROBO licensing we talked about earlier.
You can find out more information about this configuration on VMware VSAN's YouTube Channel.
vSphere ROBO Simplifies Licensing, Deployment, and More
First and foremost, both vSphere ROBO and vSAN ROBO simplify licensing for remote and branch offices where you want to leverage VMware vSphere.
How much simpler can you get then a pack of 25 VMs?
The VMware ROBO licensing models also make it extremely cost effective to protect your servers in even the smallest of sites by leveraging the VMware vSphere feature set.
To learn more about vSphere Remote Branch Office, take a look at the data sheet.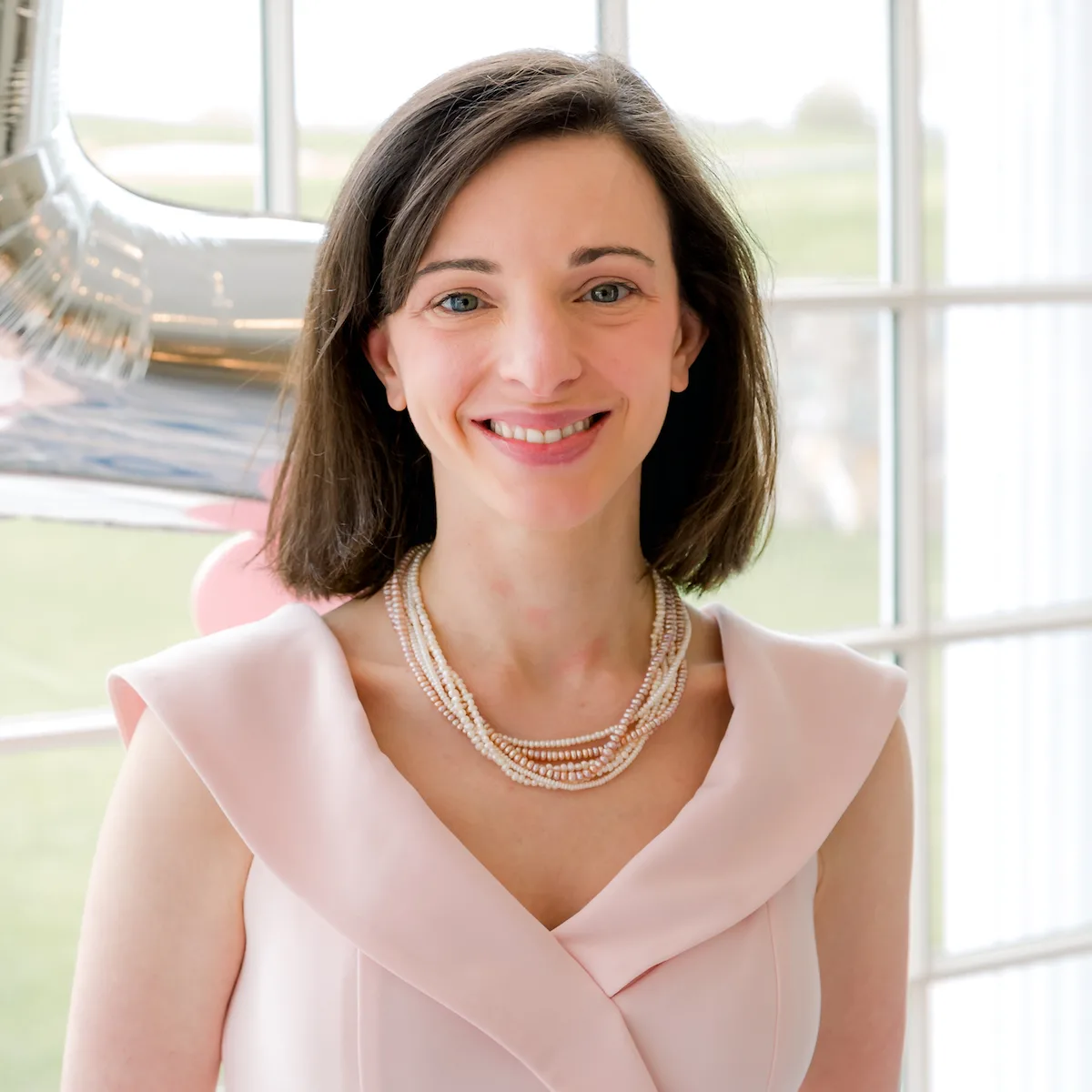 Melissa is an Independent Technology Analyst & Content Creator, focused on IT infrastructure and information security. She is a VMware Certified Design Expert (VCDX-236) and has spent her career focused on the full IT infrastructure stack.