Recently, I had a friend who has been known as "the network guy" message me after he started a new job, and logged into VMware vCenter for the first time. His goal was to figure out what he needed to do to learn VMware as quickly as possible. While many who are already familiar with VMware vSphere may take learning about VMware for granted, there are many IT professionals that have only had a brief exposure to the things we know so well, and are looking to learn about VMware.
All About Learning VMware – Where to Start?
If you find yourself asking the question, "What is VMware?" have no fear, there are plenty of free VMware learning resources out there. If you know enough to be dangerous and are looking to learn more about VMware, there are plenty of resources out there for you too! Many of these VMware learning resources are hiding in plain sight. Now, let's take a look at a few ways to learn more about VMware vSphere that you may have not even thought of.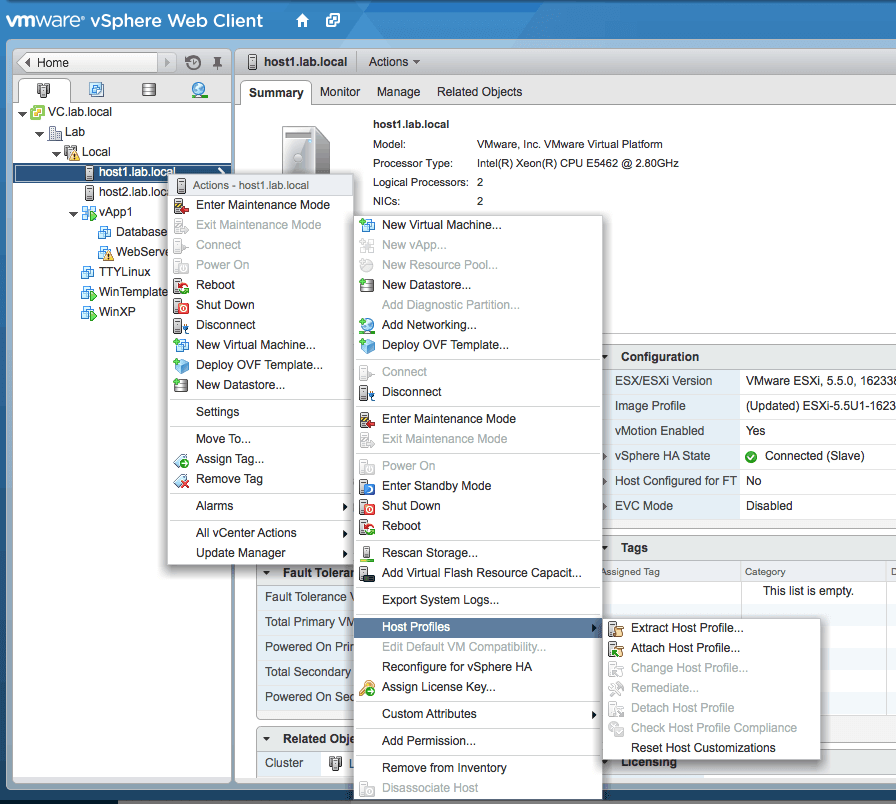 (If you are looking at the screen shot above, and wondering "What is VMware all about?", this is a screen shot of the vSphere Web Client, which you will soon become very well acquainted with! In this image, the vSphere administrator is looking at something called Host Profiles. Host Profiles are a feature of vSphere which allows for quick and easy ESXi host customization. The vSphere environment in this screen shot was set up using AutoLab. Read on to find out how to learn more about Vmware vSphere)
Want to learn VMware? Check out my VMware Basics resources!
What is VMware vSphere Anyway?
VMware vSphere is a virtualization platform. If I deploy a physical server for an application, I need to make sure I understand the workload. Once I deploy this physical server, it can be difficult to add additional CPU and Memory in many situations, plus it takes up space! If I am using 5% of this sever's resources, I am wasting CPU, Memory, Space, Cooling, and Power.
If we install a special piece of software on a physical server called a hypervisor, we can run many servers on that single piece of hardware, ensuring we are not wasting these resources. The VMware hypervisor is called ESXi. We can then put these physical servers into a cluster and use special software to manage it. This lets us do cool things like protect against physical hardware failure. In this case, the special software will re-start the virtual machines on hosts that are still running in the cluster.
Is this a gross oversimplification of virtualization? Yes, but it is enough to get you started. Be sure to check out the more in-depth article "What is VMware?".
Read on to discover different ways to start your VMware learning journey.
How to Learn VMware With Official Documentation aka RTFM
This may sound silly, but the fact is VMware documentation is top notch. VMware's vSphere Docs is a completely updated documentation portal with an easy to navigate web interface. Many times I start here if I am looking for something specific, like when I was looking for specific virtual machine permission info.
The official VMware documentation is one of the most overlooked VMware learning and VMware training resources. The best part is this web based resource can be used at one's leisure, and is a great way to start getting familliar with VMware vSphere concepts and technologies. Maybe someone is looking to start slow, and will start with a section a day, or maybe someone else will blow through it in a weekend. Either way, it is a great reference.
Use YouTube as a Free VMware Training Resource
Luckily, there are plenty of videos on YouTube all about VMware, from explanations of the VMware basics to demonstrations on configuration and operations inside a VMware environment. As I have mentioned, there is no shortage of free VMware training if you know where to look.
When I was first learning about VMware vSphere, I would spend many Friday nights and weekends with YouTube as a learning tool. If you are someone who likes to learn by watching, this is a great resource for you. This is also a good resource for playing along at home (see the section below on AutoLab).
Free VMware Training With VMware Hands On Labs
I do not have enough good things to say about VMware Hands On Labs (HOL)! Back when it was just starting out, years ago, I badgered by VMware account rep for an invite, and was not disappointed! HOL has really evolved over the years, and is the destination for kicking the tires on whatever VMware product you want to. Getting right to it and playing with VMware is one of the best ways of learning about VMware products.
The best thing about HOL is the ability to test the waters without worrying about breaking something in a production environment. HOL has so many cool things to do I am almost considering abandoning this post to go play. One of the best parts of HOL are all the features you can try out. For example, if you are a networking person, you may want to start with one of the networking labs to see how vSphere fits into concepts you already have a solid understanding of. A good example of this is playing with the vRealize Network Insight Hands-on-Lab. Each lab comes with a detailed lab guide, so you know exactly what actions to perform and how it all works.
Free VMware Training if You Own A Computer: Set up a vSphere Environment Using AutoLab
AutoLab is a combo guide and canned scripted setup for vSphere. The lab guide walks you through the complete setup of a VMware vSphere environment. Best of all, you can run it nested in VMware Fusion, on your own hardware, or in the cloud at Ravello Systems. AutoLab also takes care of all the extra things you'll need like a domain controller to have a fully functional environment. You may not have the opportunity to set up a VMware environment soup to nuts anywhere else, but it is definitely a great learning experience. Best of all, after it is fully built, you can wreak all the havoc you want, and rebuild it again!
One of the great thing about VMware is they want to get you hooked, you can run vSphere for 60 days without entering licenses. What happens after 60 days? Why start over of course, and and keep on learning. You can find a great tutorial on how to get AutoLab running in the Ravello Systems cloud on VirtAdmin.com.
Read a Book to Learn About VMware
Sometimes it is relaxing to just kick back and read a book, either digital or physical. One of my favorite vSphere books is Mastering vSphere 6. It is a great easy ready which covers everything and anything you need to know about setting up a vSphere environment. There are a huge array of excellent vSphere books out there as you progress, but this is and always will be one of my favorites for getting started.
If you are really looking to learn the fundamentals of what virtualization is, and how it interacts with the rest of an IT infrastructure, I highly recommend my book IT Architect Series: The Journey. In addition to a technical overview of the areas of IT infrastructure, I spend a good deal of time talking about different methods of leaning and how to use them.
I hope this helps anyone getting started with their vSphere journey. Don't forget to check out your local VMUG – that's VMware User Group and attend one of their meetings. VMUGs are a great way to connect with others who work with vSphere, and generally everyone is super nice and super helpful.
My VMware Learning Path
I started learning VMware with many of the methods I just talked about, and considering I am now a VMware Certified Design Expert, I would say they worked pretty well! Be sure to check out this article on What I Wish I Knew When I Was Learning VMware.
Before I became a VCDX, I had to start at the beginning of the VMware certification path, just like everyone else. Be sure to check out The Simple Guide to VMware Certification to help you get started with the VMware certification process.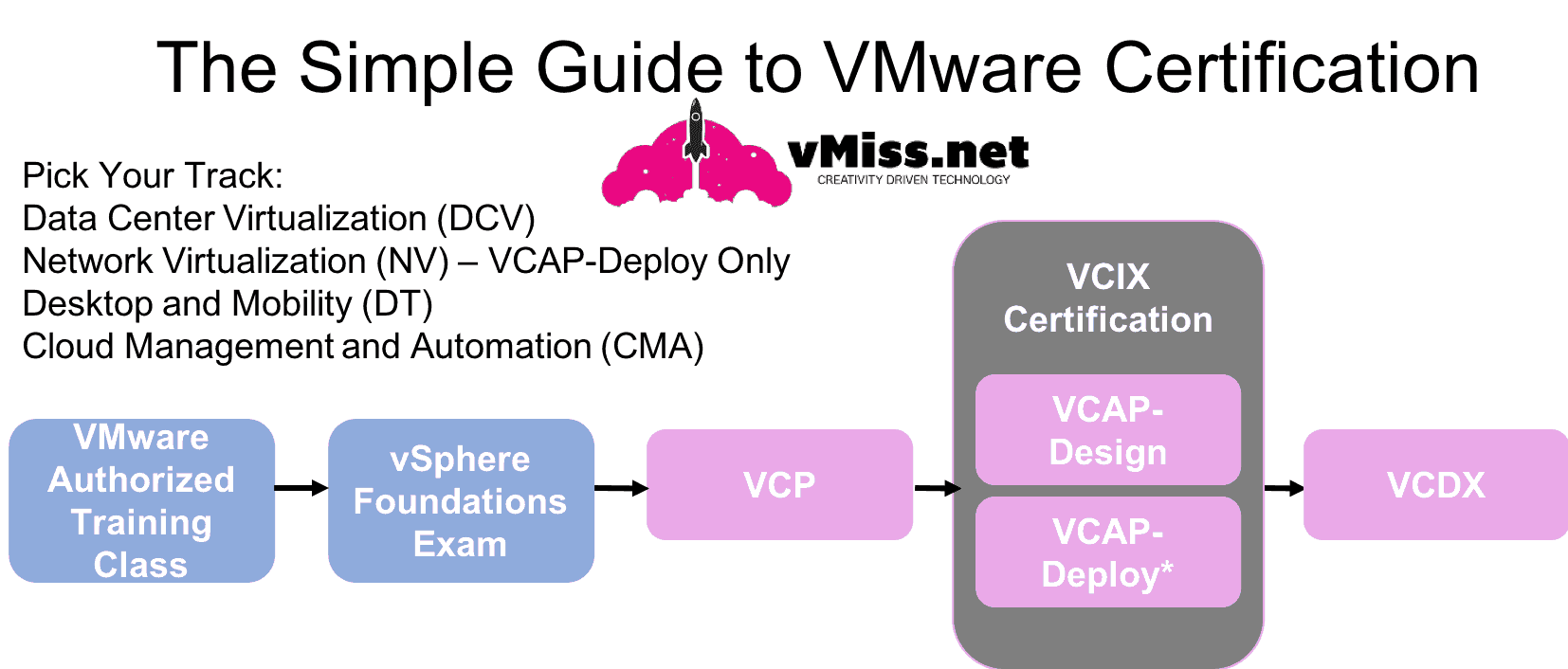 This guide will get you started on the VMware certification path, which is a great way to learn all about VMware technologies.
If you are still trying to figure out which VMware certification track is right for you, you can still get started with the basics of VMware by studying for the VMware vSphere Foundations exam.
Personally, I spent a great deal of time watching VMware videos on YouTube when I was getting started, since it was not easy to build a lab on your laptop, and the cloud was not around yet. I also enjoyed reading about VMware books, and learning by doing as part of my day to day job.
Recap of Ways to Learn VMware
Now, for a recap of different ways to learn VMware:
By using one or more of these ideas, you will be well on your way to learning more about VMware vSphere.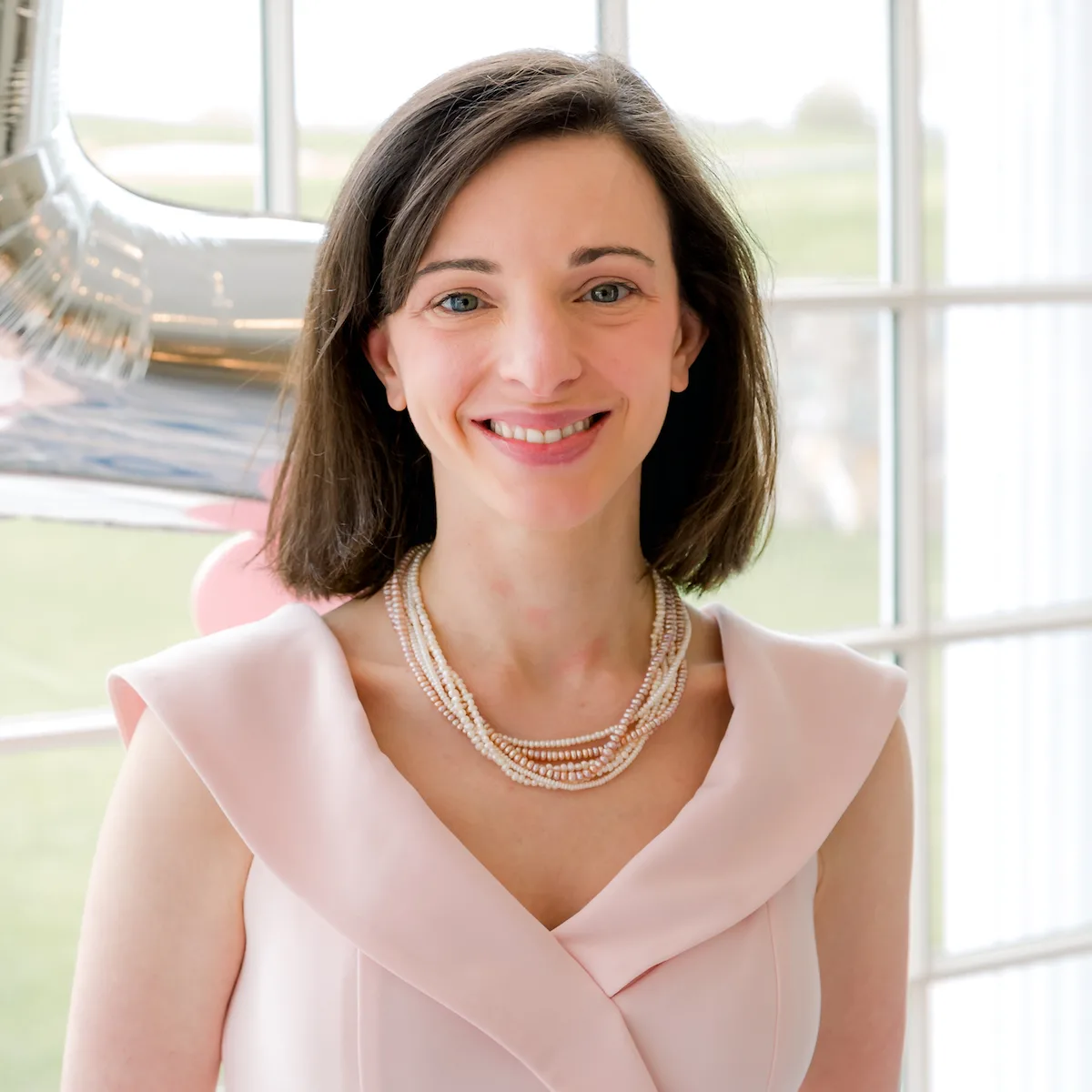 Melissa is an Independent Technology Analyst & Content Creator, focused on IT infrastructure and information security. She is a VMware Certified Design Expert (VCDX-236) and has spent her career focused on the full IT infrastructure stack.