Today we are going to take a look at one of the newest additions to the Cisco UCS family, the Cisco UCS 64108 Fabric Interconnect. Don't miss my Introduction to Cisco UCS Architecture, which talks about how all of the Cisco UCS components work together.
All About Cisco UCS 6400 Fabric Interconnects
The Cisco UCS 64108 joins the Cisco UCS 6445 fabric interconnect. The big difference between the two models is the number of ports.
The Cisco 64108 has 108 ports, while the UCS 6454 has just 54.
Considering that a single Cisco UCS domain can scale up to 160 servers, you can run out of ports fast.
When the 6200 series retired, there was a huge gap in the Cisco UCS Fabric interconnect lineup, and the 64108 fills it.
The Cisco UCS 64108 is 2 RU high, and is always deployed in a pair of two for redundancy.
You can find the Cisco UCS 6400 Fabric Interconnect Data Sheet here.
You can find the Cisco UCS 54108 Spec Sheet here.
Need to know more about how Cisco documentation works? Don't miss Navigating Cisco UCS Documentation: Data Sheet vs Spec Sheet
A Closer Look at the Cisco UCS 64108 Fabric Interconnect
Let's take a closer look at this Fabric Interconnect.

The most important thing when you take a look at the Cisco UCS 64108 Fabric Interconnect is understanding how the ports can be used.
Ports 1-16, outlined in purple can function as either 8/16/32 Fibre Channel ports or 10/25 Ethernet Ports. If you plan on using Fiber Channel storage with your UCS servers, this is extremely important! If you plan on using Fiber Channel, you MUST use these ports to connect your storage.
Ports 17-88, outlined in blue are Ethernet ports, and yes, FCoE is included in this.
Ports 99-96 are also Ethernet ports, but they are the ONLT ports that can function at 1Gbps in addition to 10/25 Gbps.
Ports 97-108 are your Uplink ports, or what you will connect to your Nexus switches, they operate at 40/100 Gbps.
Understanding how the ports can be used is extremely important, since the physical cabling is none of the first things you do when you get your Cisco UCS in your data center. Taking some time to diagram the cabling with these ports in mind will spare you a lot of headaches later on.
It is also important to determine what ports you will be using at what speed, so you can make sure you have the proper transceivers.
Connecting Your Cisco UCS 64108 to UCS Servers
When you want to connect your Cisco UCS servers to the 64108, there are a couple of options.
You can direct connect ports on Cisco UCS Rack servers to your Fabric Interconnect.
You can also connect your Cisco UCS Rack servers to a Fabric Extender, or FEX, and connect the FEX to the fabric interconnect.
If you are using Cisco UCS Blade servers, you must connect the Fabric Extender in your blade chassis to the Fabric Interconnect. You cannot connect blade servers directly to the Fabric Interconnect.
If you are connecting blade servers, you will use two of the Cisco UCS 2408 FEX.
FEXs are deployed in pairs, just like Fabric Interconnects, which each FEX connoting to one of the Fabric Interconnects for redundancy.
Each 2408 FEX has eight 25 Gbps ports, so be sure to pay attention to how much bandwidth you will need and how many FEXs you will connect.
This is what a sample Cisco UCS 64108 architecture could look like: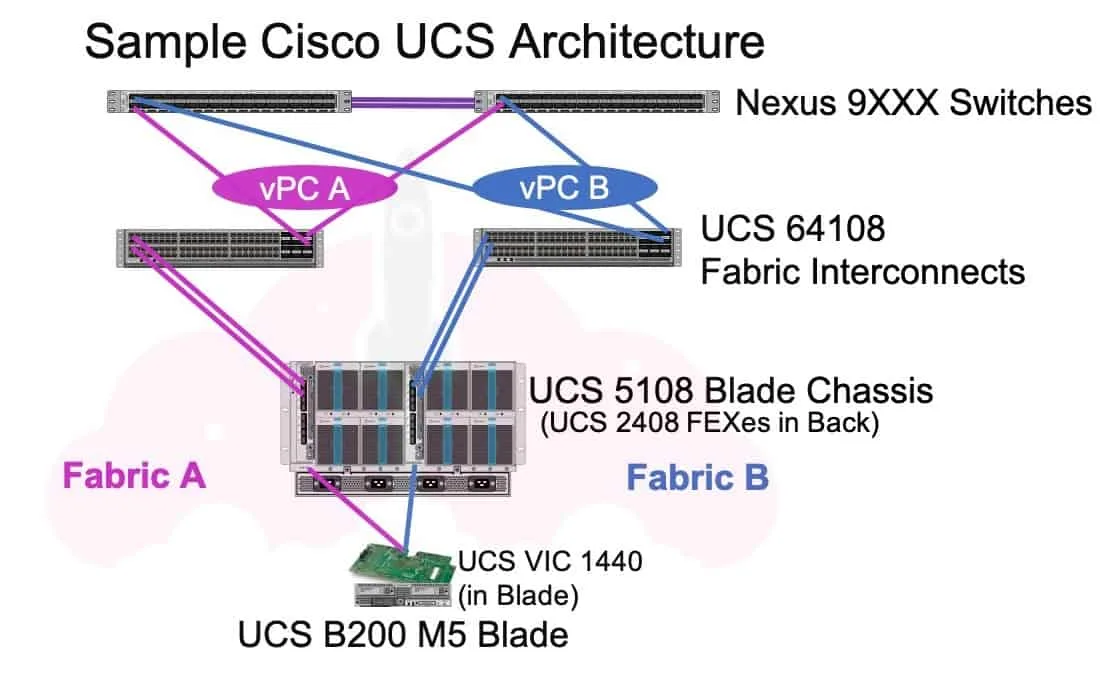 More Cisco UCS Architecture Resources
The Cisco UCS 64108 is only one piece of the UCS puzzle.
Be sure to take a closer look at some of these other Cisco UCS components:
Introducing Cisco UCS M5 B-Series Blade Servers
Cisco UCS VIC 1400 Series Deep Dive
Taking a Closer Look at Cisco UCS
If you wanna to take a closer look at Cisco UCS, and how it all works together, the Cisco UCS Platform Emulator is a great way to get started. You can build out a sample Cisco UCS environment and see what management is like with Cisco UCS Manager.
You can also take a look at this YouTube video for a quick tour of UCSPE.
Looking for more Cisco UCS content? Be sure to browse my Cisco category, or be sure to let me know if something is missing so I can create it!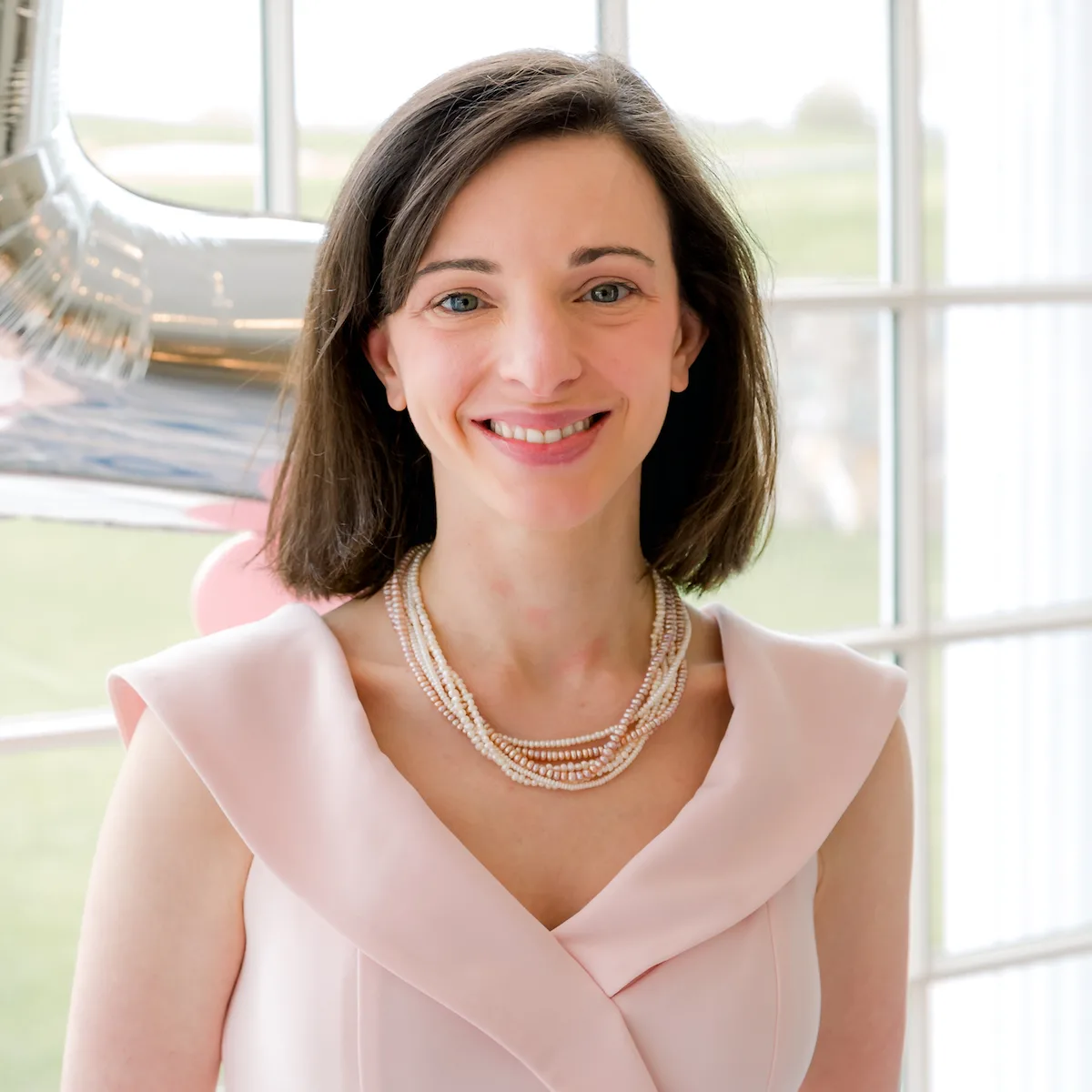 Melissa is an Independent Technology Analyst & Content Creator, focused on IT infrastructure and information security. She is a VMware Certified Design Expert (VCDX-236) and has spent her career focused on the full IT infrastructure stack.