Recently, Cisco announced the brand new Cisco UCS X-Series. At a glance, the Cisco UCS X-Series is a huge departure from the traditional Cisco UCS systems we're used to, or is it? While at a glance it does look radically different (the first thing that got me was vertical blades instead of horizontal), the truth of the matter is that it is still Cisco UCS at the core.
Let's take a look at the all new Cisco UCS X-Series, and what you need to know to start designing solutions with it.
Cisco UCS X-Series Overview
The Cisco UCS X-Series consists of a several new key components.
Cisco UCS X9508 Chassis
Cisco UCS 9108 Intelligent Fabric Modules (IFMs)
UCS X-Fabric Technology Slots
Cisco UCS X210c M6 Blades
This is actually very similar in componentry when compared to the classic UCS that has been around since 2009. Keep in mind, the Cisco UCS 5108 blade chassis has been pretty much the same since its debut. While blades and FEXs (which you don't see in the list) have evolved, the chassis remained.
Now, let's take a closer look at each of these components, their specifications, and how they are different from their counterparts.
Cisco UCS X9508 Chassis
At the core is the brand new Cisco UCS X9508 Chassis.
It houses 8 vertical blades, and is 7 RU, compared to its 6 RU predecessor, which also housed 8 "half blades".
While we're talking about an additional RU of space, the size of the blades themselves have also increased a good deal. At launch, there is one type of blade available, the Cisco UC X210c M6, which is a larger form factor than say the B200 M6.
If you take a look at the chassis, it is actually pretty wild, and has no midplane. The servers will connect directly to the Intelligent Fabric Modules and future Cisco UCS X-Fabric Modules.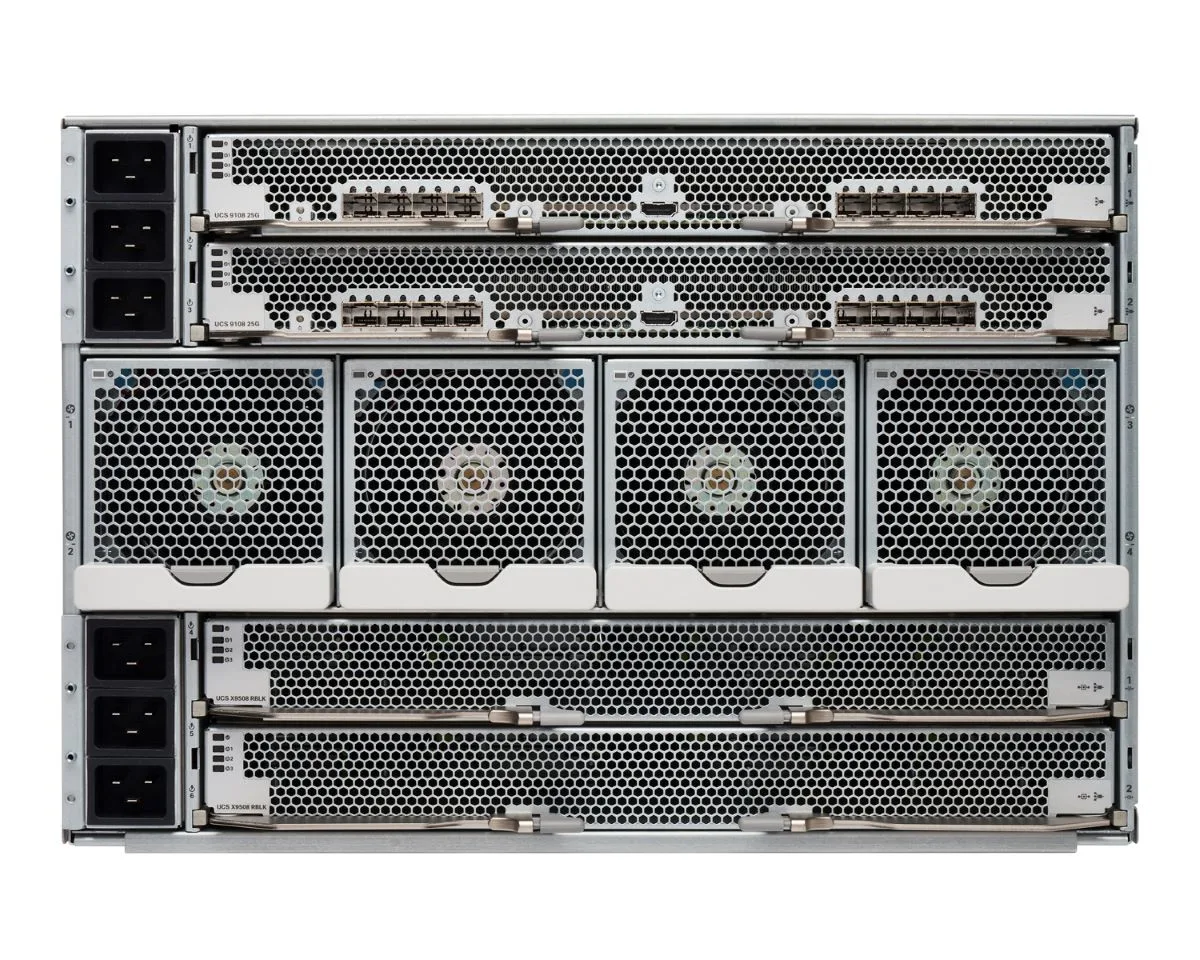 This is one great way to futureproof this design. While the 5108 is a great chassis, in recent years many complained it was just plain "old". By removing the midplane, Cisco has essentially removed any future limitations, and can quickly adapt new technologies by simply releasing new modules.
This new chassis also features six 2800 watt power supplies, and four fans for cooling, compared to the previous chassis' four 2500 watt power supplies. This increase in electrical power tells us quite a bit about the increase in computing power that comes with this new generation of UCS.
Cisco UCS 9108 25G Intelligent Fabric Module (IFM)
First off, let's start off with a moment of silence for the Cisco UCS Fabric Extender (FEXs), which were your main connectivity point from the 5018 chassis to your Nexus switches. As the generations of Cisco UCS carried on, there were a number of FEXes to choose from based on what Fabric Interconnects you were using.
The good news is the new Cisco Intelligent Fabric Module (IFM) is the replacement for the previous FEXes, and the concepts you may be used to remain mostly the same.
The Cisco UCS 9108 IFM has eight 25G ports, and connects directly to one of the Cisco UCS 6400 series Fabric Interconnects.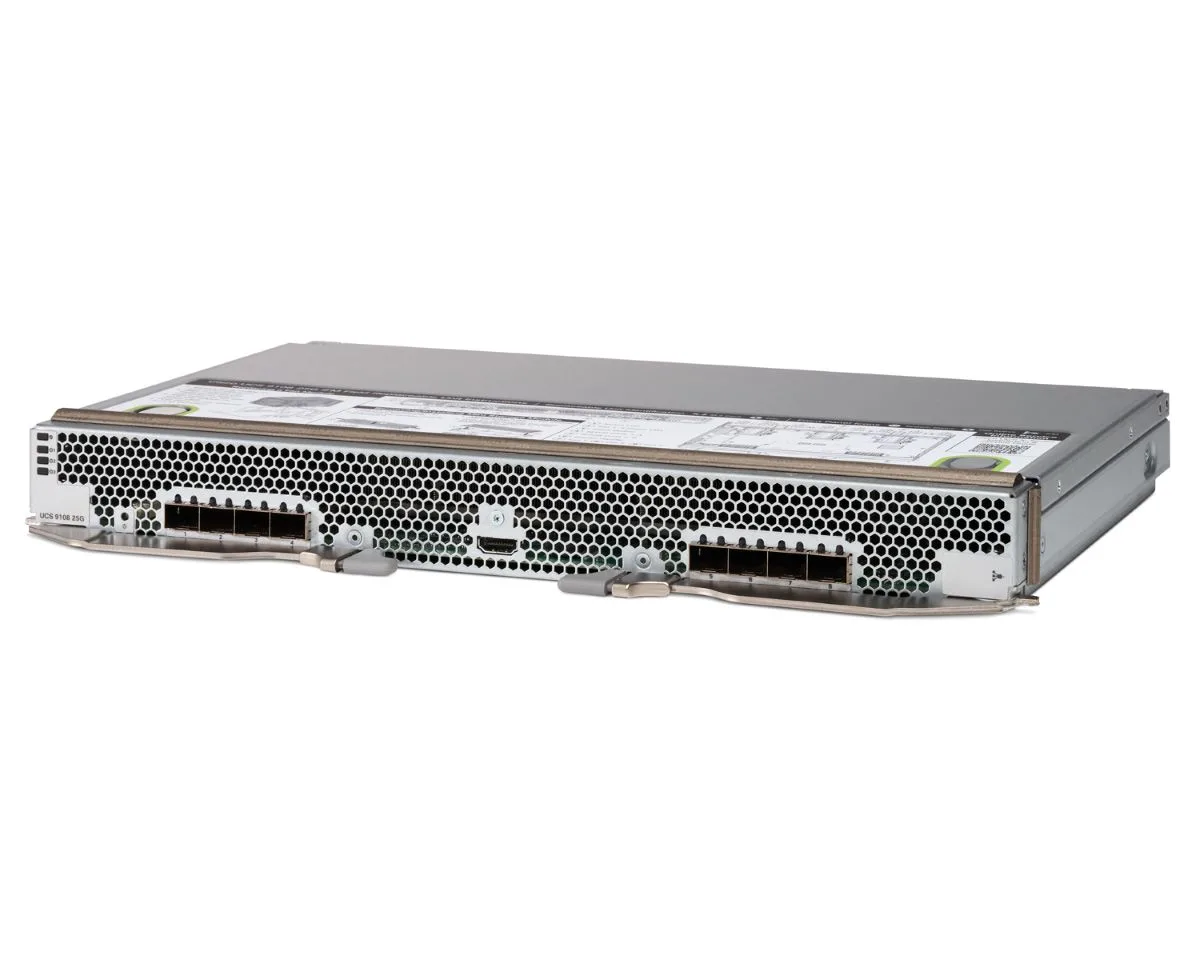 Internally, it provides each blade with four 25Gb/s lanes.
Remember, there is no midplane in the X9508 chassis, so when a blade is plugged in, the mLOM slot of the blade connects directly to the IFM.
Again, this isn't a new concept, it is just arranged differently. Since the orientation of the blades has changed, so has the orientation of the IO modules.
For me, I always referred to one FEX as the "A Side" and one FEX as the "B Side"…so I'll have to think about how I'm going to phrase that going forward. Top and Bottom? Keep A and B? Stay tuned to find out!
Cisco UCS X210c Modular Servers
At launch, the Cisco UCS X210c is available as a compute node option. I think of this as the next fantastic version of the Cisco UCS B200 (which was probably my favorite server ever).
At 6U, the previous Chassis was able to support 8 B200s. The new version supports 8 UCS X210cs, which are actually bigger and more powerful.
Let's take a look at the specs side by side:
| | | |
| --- | --- | --- |
| | UCS X210c M6 | UCS B200 M6 |
| DIMM Slots | 32 | 32 |
| Max RAM | 8 TB / 12 TB | 4 TB / 8 TB |
| CPUs | 2 x 3rd Gen Xenon Scalable | 2 x 3rd Gen Xenon Scalable |
| mLOM VIC | VIC 14425 | VIC 1440 |
| Rear Mezz | VIC 14825 | VIC 1480 or Port Expander |
| Front Mezz | Cisco FlexStorage Raid / FlexStorage Passthrough | Cisco FlexStorage Raid |
| Drives | 6 SAS/SATA/NVMe + 2 M.2 | 2 SSD/NVMe OR 4 M.2 |
Here's what jumps out at me: pretty much more of everything. More RAM and more disks. Let's be honest, as much as I love my B200, it was very limited in terms of internal storage due to its size.
The X210c looks to be pretty much a fantastic all around server that provides a huge amount of capability for a mere 7U of rack space. Multiply those specs out by 8, and that's what you'll have with a single chassis of the new UCS.
Cisco VIC 14425 and Cisco VIC 14825
As expected, there aren't really any changes to the way the Cisco VICs function with the new Cisco UCS X Series, but there are two new models to fit in the new blade server.
The VIC 14425 goes in the mLOM slot, and the VIC 14825 goes in the rear mezzanine.
Of course, VICs don't have ports in the traditional sense when they are in a blade. They plug into 9108 IFM, and have four 25 Gbps lanes each, one to the A side of the fabric and one to the B side of the fabric.
The magic of the VIC is handled through software, where you can configure pretty much as many virtual interfaces as you could ever need.
Cisco UCS 6400 Fabric Interconnects
You know what doesn't change at all? The Fabric Interconnects you connect your chassis to via your IFM modules.
I was really excited when Cisco introduced the 64108 Fabric Interconnect, and when you combine that with the new UCS X Series, the design possibilities are really endless, but remain simple.
Remember, Fabric Interconnects are always deployed in pairs.
Cisco Intersight Management
I've been talking about Cisco Intersight for a while now. If you're adopting the Cisco UCS X Series and haven't made the move to Intersight yet, now is a great time. Intersight really is the way of the future when it comes to simplified management of your Cisco environment.
I know there may be some hesitancy to make a change like this, especially since UCS Manager is so easy to use, but now is the time.
Using Cisco Intersight Managed Mode for your new UCS system really does unify the management experience, and isn't that what UCS is all about? Think about being able to optimize workloads and manage new services in your environment like Kubernetes across your hybrid cloud environment.
Cisco Intersight goes way beyond the ability to configure and manage your new Cisco UCS X Series system, with the ability to add the modular service that make the most sese for your organization.
The New Cisco UCS X Series is Here!
The new Cisco UCS X series is here, and it's the next evolution of the Cisco UCS systems we all know. The new chassis was long overdue, and it's been redesigned to be more futureproof than ever.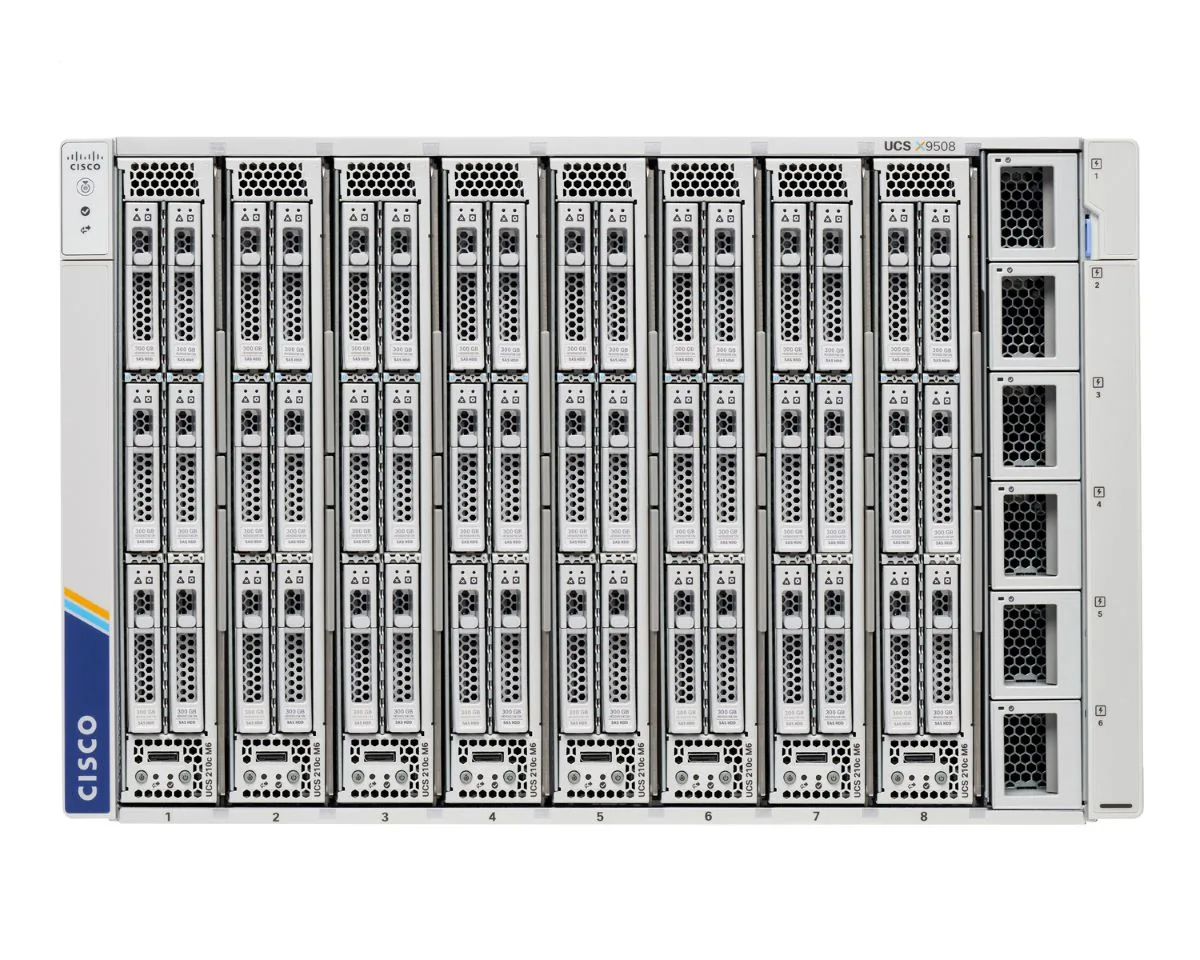 While it's grown a little bit from a 6U to 7U chassis, this new chassis fits 8 modular servers that are extremely powerful, and customizable.
From an architectural standpoint, we're now existing in the 25 Gbps world with the Cisco UCS 6400 series Fabric Interconnects and beyond. Our beloved FEXes are now known as Cisco Intelligent Fabric Modules or IFMs, but the functionality is what we're all used to.
If you haven't already made the move to Cisco Intersight, now is the time! Besides making your Cisco UCS even simpler to manage, you'll also have the ability to adopt way more features than UCS Manager ever had.
This is an exciting time for Cisco UCS. I've been waiting for the next big thing for a while now, and this does not disappoint. Stay tuned for more deep dives and architecture considerations for the Cisco UCS X Series!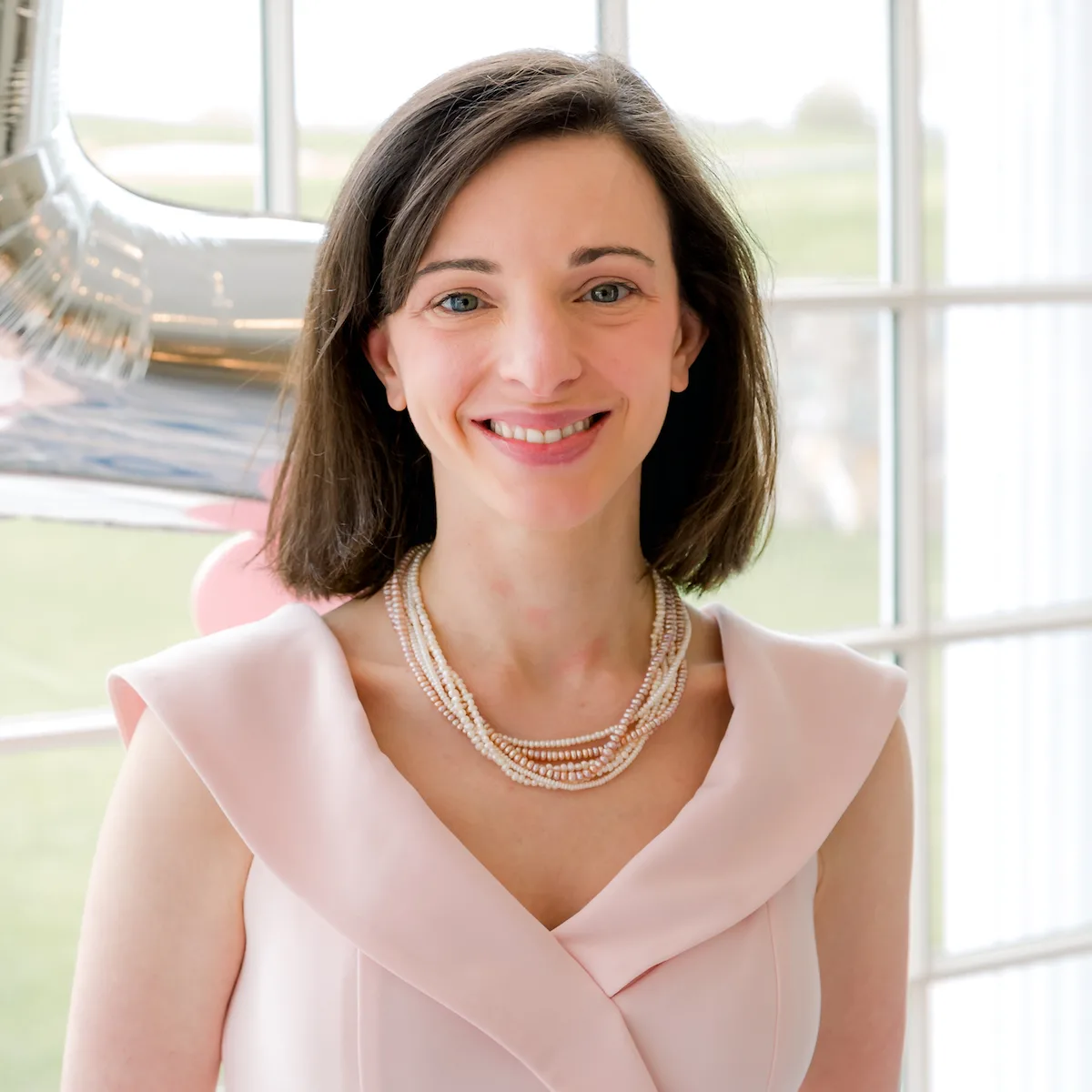 Melissa is an Independent Technology Analyst & Content Creator, focused on IT infrastructure and information security. She is a VMware Certified Design Expert (VCDX-236) and has spent her career focused on the full IT infrastructure stack.