When it comes to Cisco UCS systems, I have talked quite a bit about how powerful Cisco UCS Manager is for managed UCS solutions. Imagine for a moment if you could turbocharge UCS Manager, and also make Cisco UCS servers using CIMC easier to manage, and take care your Cisco HypefFlex environment too. Wouldn't that be great? It would be, and you can do all of this and more with Cisco Intersight.
What is Cisco Intersight?
Cisco Intersight is your turbocharged Cisco UCS management solution, based in the cloud. You can easily manage Cisco UCS Manager, Cisco Integrated Management Controller and Cisco HyperFlex based systems all from an easy to use centralized interface.
Besides day to day management with a slick easy to use and understand dashboard, deployment becomes a breeze, especially for stand alone UCS Servers using CIMC.
Streamlined Deployment and Management of Standalone C-Series Servers
Don't get me wrong, CIMC is great and simple, and powerful to use – but if you are managing a large number of standalone Cisco UCS servers it can be challenging. Imagine being able to blast down an identical configuration to all of your Cisco C-Series server with a few clicks.
This is especially great if you are trying to streamline operations in remote or branch offices where standalone UCS can really shine and add value. Then, keep an eye on these servers from a centralized location along with your Cisco UCS Manager configuration.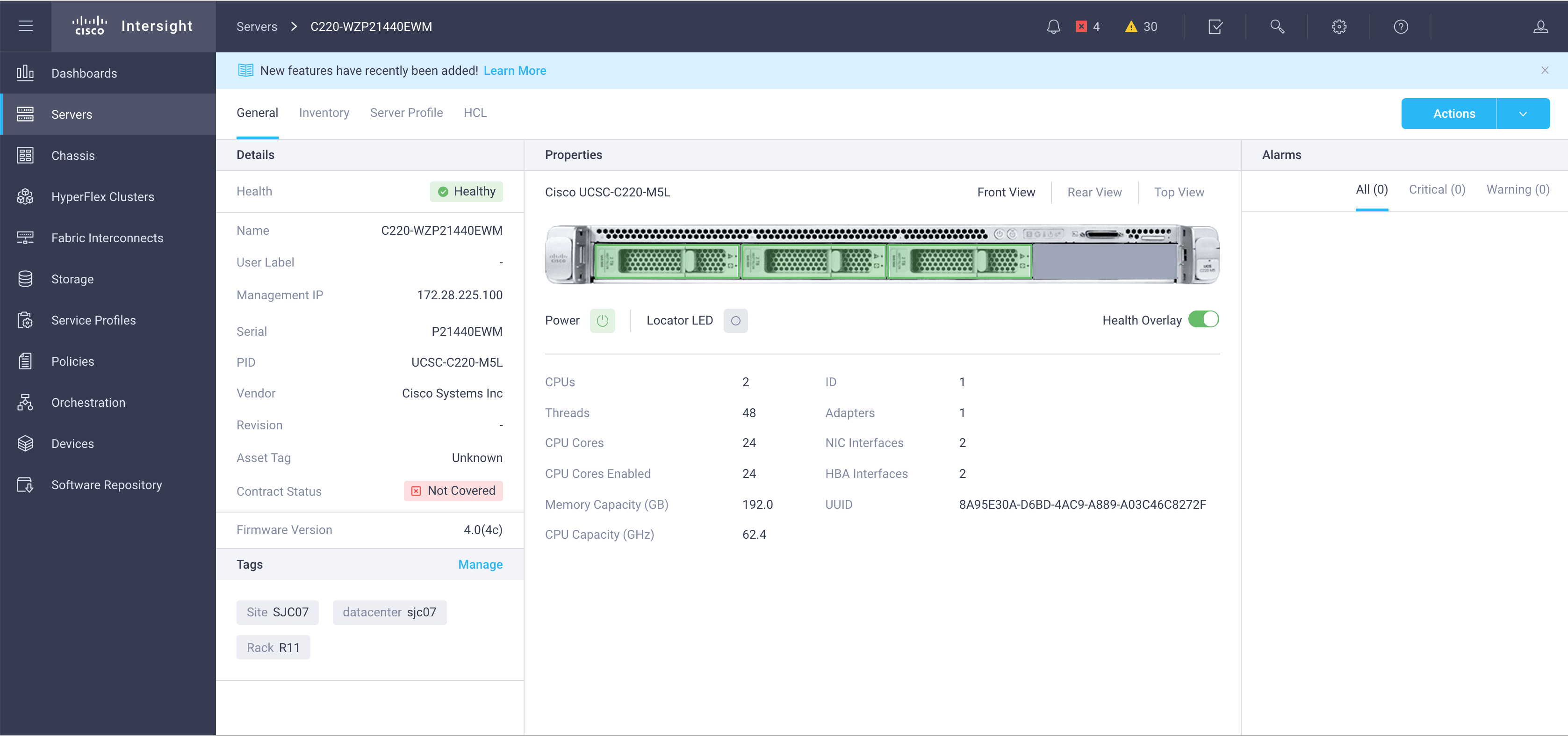 The same goes for your Cisco HyperFlex clusters, quickly deploy a uniform configuration at any time, and get a good look at your Cisco UCS inventory from a single pane of glass.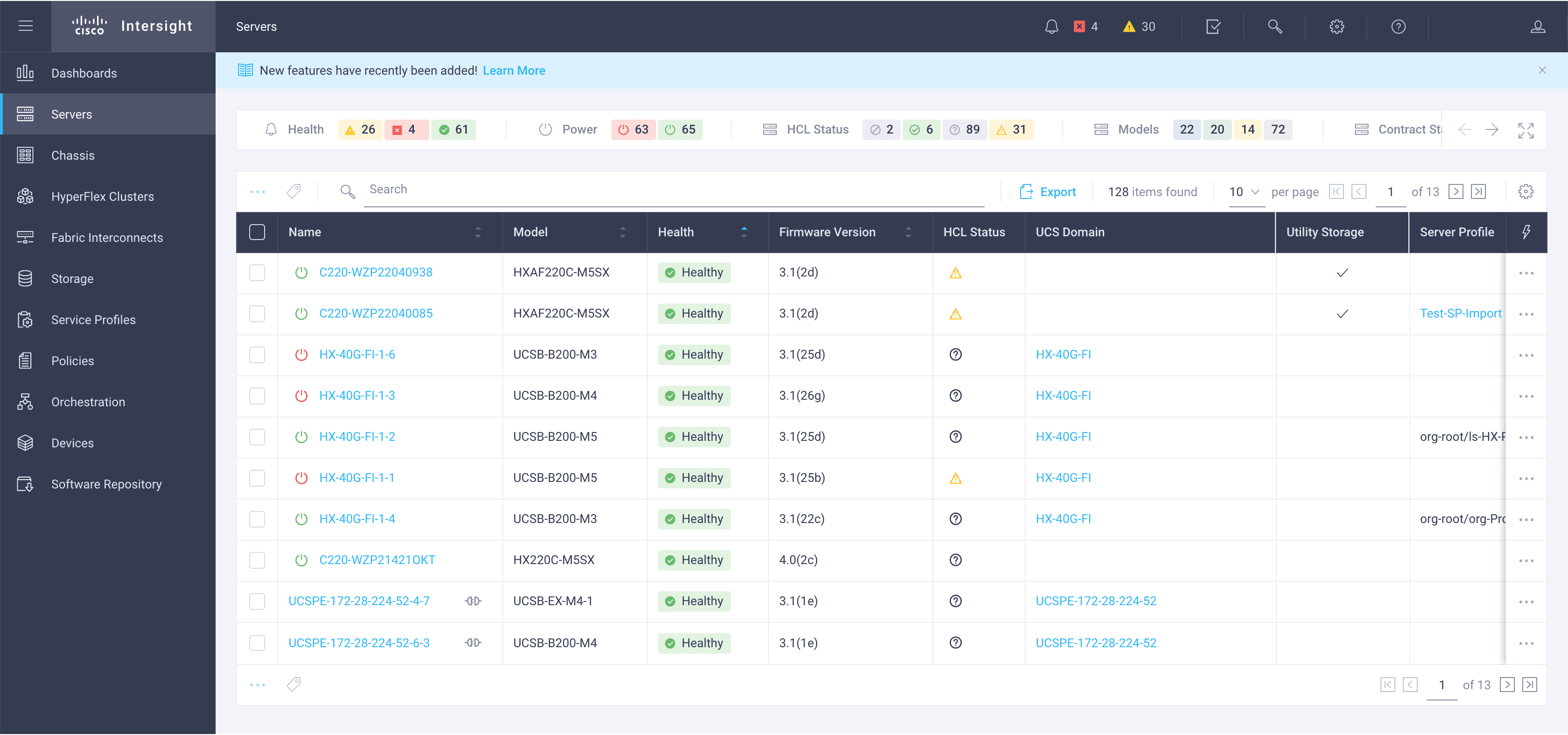 Enhanced Troubleshooting and Operations with Telemetry Data Collection
Besides being easy to use and giving you access to all of your Cisco UCS infrastructure, Cisco Intersight is smart. Cisco Intersight collects information like installed software and feature use data so the Intersight recommendation engine can proactively take a look at your complete UCS environment. This helps customers become aware of potential issues before they can even occur.
This data can also be proactively shared with Cisco TAC, which you can learn more about in the Cisco Intersight Solution Brief. When Cisco Intersight sees errors, it can automatically upload the data to Cisco TAC for root cause analysis.
It is important to note that users are in full control of the data they share with Cisco.
Cisco Intersight REST API
Cisco Intersight features a REST API based on the OpenAPI standard. If you aren't familiar with OpenAPI, it was formerly known as Swagger.
If you have never heard of Swagger, it is a great way for beginners to get used to working with APIs in an easy to use interface. Be sure to check out the Swagger-UI if you new to APIs.
Better yet, be sure to check out the Cisco Intersight space on Cisco DevNet, where you can find various Cisco Intersight learning labs, such as Introduction to the Cisco Intersight REST API.
Cisco Intersight Editions
Cisco Intersight comes in three flavors: Base, Essentials, and Advantage. Let's take a look at the features included in each.
Cisco Intersight Base Edition
Cisco Intersight Base Edition includes everything you need to start streamlining your Cisco UCS management and operations.
Did I mention it is free? With the Base Edition of Cisco Intersight, you will be able to get a better view of your inventory and monitor the health of your Cisco UCS environment.
It also includes the integration to Cisco TAC, and the ability to launch the element managers like UCS Manager and CIMC from the interface.
For the free version of Cisco Intersight, your only deployment option is to take advantage of the SaaS model and head on over to Intersight.com.
Pretty good for the low low cost of free!
Cisco Intersight Essentials Edition
If you are looking to use some of the more advanced features of Cisco Intersight we talked about, such as the policy based management for CIMC standalone servers and Cisco HyperFlex, Cisco Intersight Essentials Edition is what are after.
You will also need Intersight Essentials if you plan on taking advantage of the API, and it includes a compliance engine that works with the Cisco UCS Hardware Compatibility List to ensure your firmware remains up to date. You can read more about The Cisco UCS Hardware Compatibility list in the guide to Cisco UCS Manager 4.0.
Cisco Intersight Essentials also comes with the ability to deploy Cisco Intersight as a virtual appliance in your environment, and with licenses for Cisco IMC Supervisor and Cisco UCS Central at no additional cost.
Cisco Intersight Advantage Edition
Do you still want more to work magic in your Cisco UCS environment? Then Cisco Intersight Advantage Edition is for you. It includes Cisco UCS Director.
Getting Started with Cisco Intersight
Already a Cisco UCS customer? Remember, Cisco Intersight Base Edition is free!
Head on over to Intersight.com to get started, and follow the instructions from the Intersight Help section to set up your account.
This is a great model, since it is easy to set up and shows you the value of Cisco Intersight before committing to purchase it.
Remember, if you want to use the policy based configuration features for standalone Cisco UCS C-Series servers and Cisco HyperFlex, you will need to use Cisco Intersight Essentials Edition or Advantage edition.
Cisco Intersight on DevNet
Besides everything you need to know about getting started with the Cisco Intersight REST API, there is a wealth of information on Cisco Intersight on DevNet.
There are a number of learning labs focused on the programmability aspect Cisco Intersight brings to the table. Considering API access is a feature of Cisco Intersight Essentials, DevNet is a great place to get some knowledge and experience to help you decide on the best edition of Cisco Intersight for your organization.
Is Cisco Intersight Right for You?
If you are a Cisco UCS customer, of course the answer is yes, since it is free to get started with! Cisco Intersight brings exceptional value to your environment if you are using multiple forms of UCS, such as HyperFlex, B-Series blades Managed by UCS Manager and C-Series rack servers managed by CIMC.
Beyond ease of management, Cisco Intersight's Telemetry Data Collection ensures smooth operations by integrating closely with Cisco TAC – with your permission to share data, of course. This feature alone makes Intersight a great choice to augment your existing UCS environment.
If you're looking to take your UCS environment to new heights and add new levels of automation, Cisco Intersight can help with that too, and DevNet has everything you need to get started.
Don't forget, Cisco Intersight is easy to set up and get started with, so take a look for yourself today.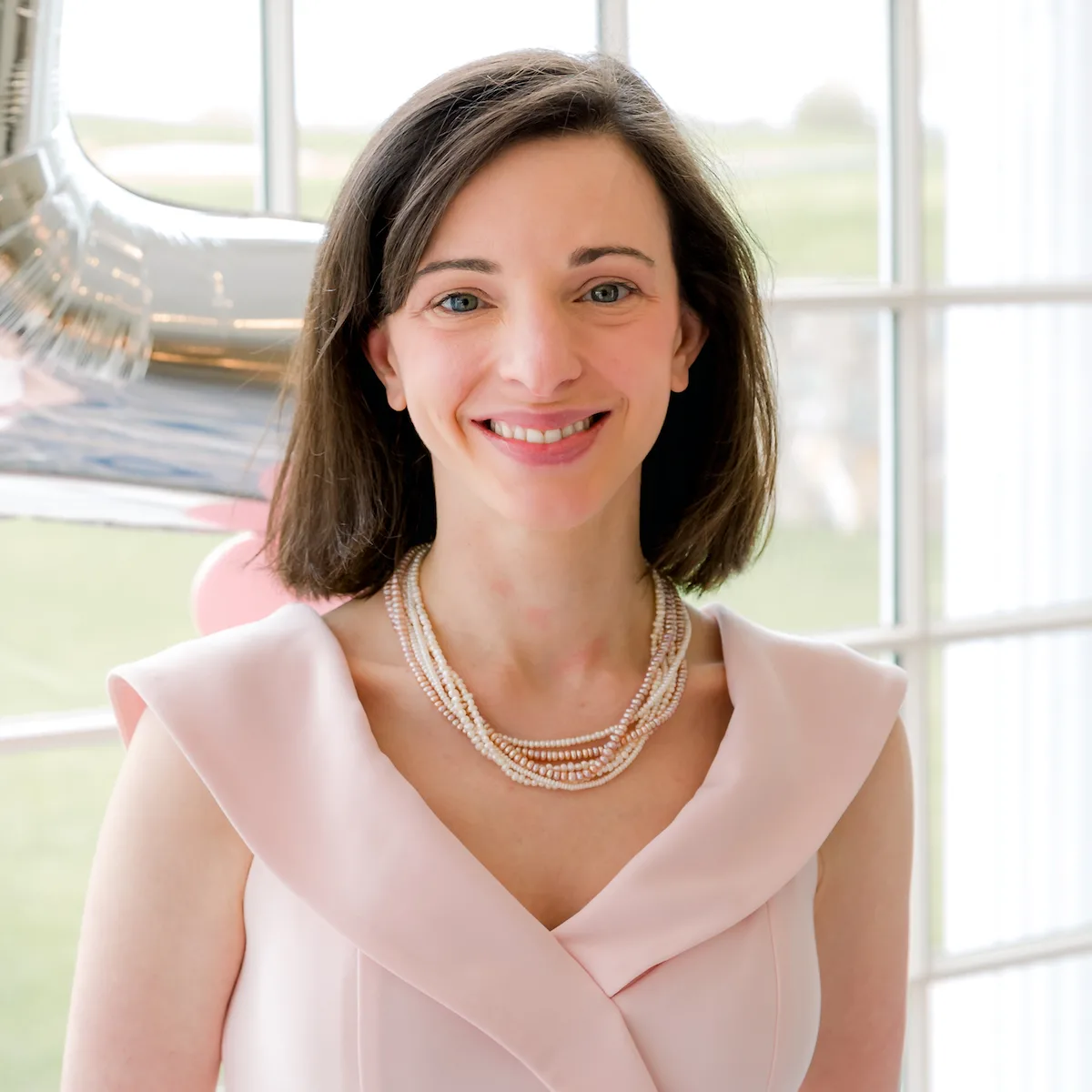 Melissa is an Independent Technology Analyst & Content Creator, focused on IT infrastructure and information security. She is a VMware Certified Design Expert (VCDX-236) and has spent her career focused on the full IT infrastructure stack.