Veeam Backup for AWS v2 is now available.
You can head right on over to the AWS Marketplace, and deploy it completely FREE and protect up to 10 instances. Beyond that, there are a number of flexible licensing options. You can learn more about that at Veeam.com
Now, I want to focus on my three favorite features of Veeam Backup for AWS v2
Harmonized Scheduling
This is a new feature that you may not even realize exists, but the fact is that it does, and it saves you time and money.
Now a single snapshot can be leveraged for a backup, a replica, or even both.
That means we can do a lot with a single snapshot.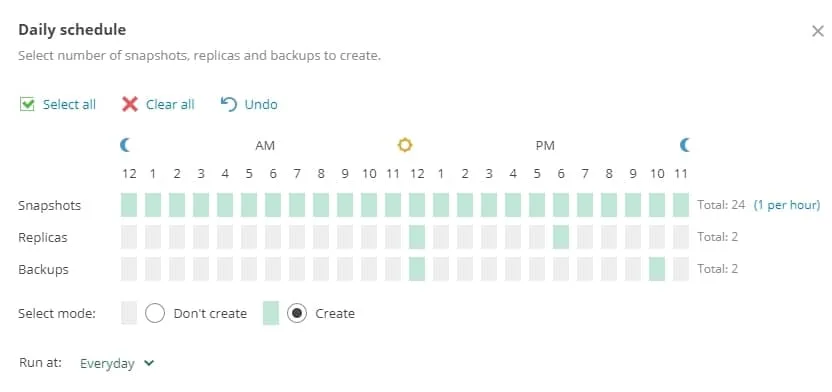 For example, every day at noon, I'm doing a snap, a backup, and replicating. These all use the same single source snapshot.
Harmonized scheduling just rolls on through your scheduling setup, including daily, weekly, monthly, and even yearly schedules.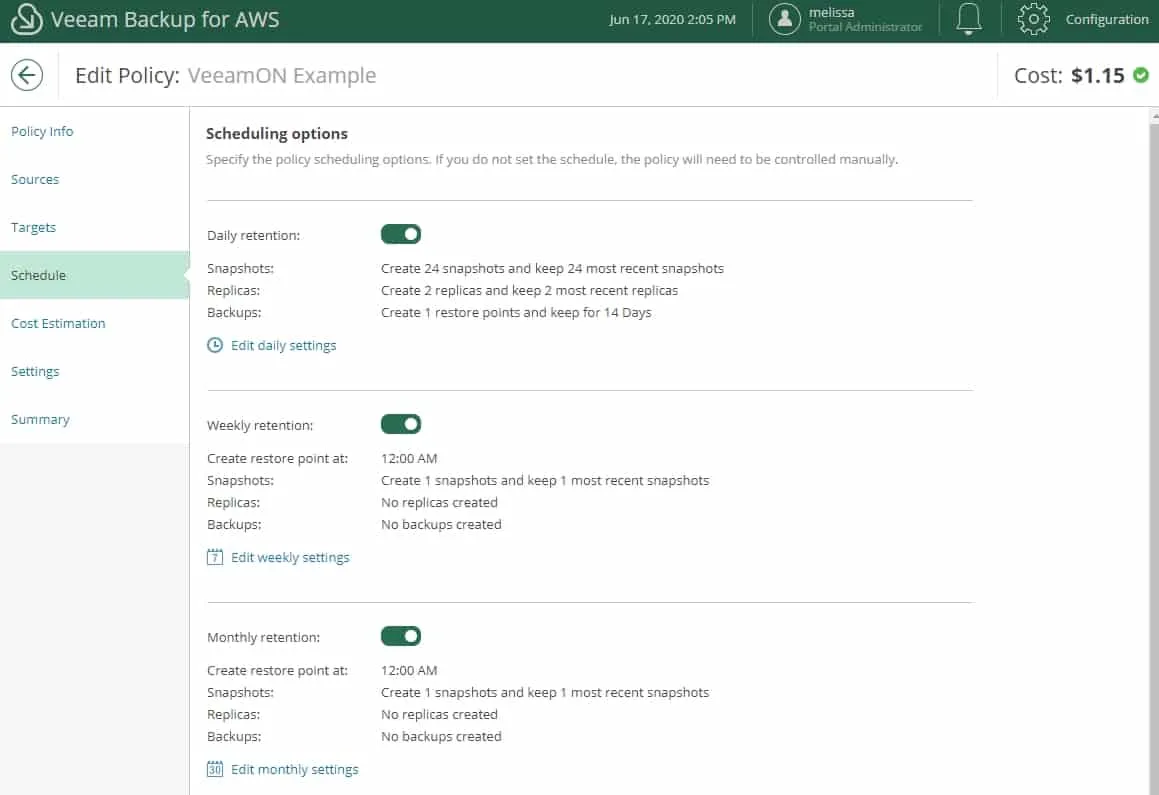 That's right. The same single snapshot can act as a source for all of these schedules, which saves you money in AWS.
This also brings me to my next point.
Snapshot Replication
Amazon EBS snapshots can now be replicated across regions and accounts.
This is great for making sure our applications remain highly available Remember, good design practices still apply in the cloud, and replicating data is a great way to ensure availability during some sort of outage.
Encryption can also be used for replication, and is required if your source data is encrypted.
Snapshot Replication can be configured in just a few simple steps.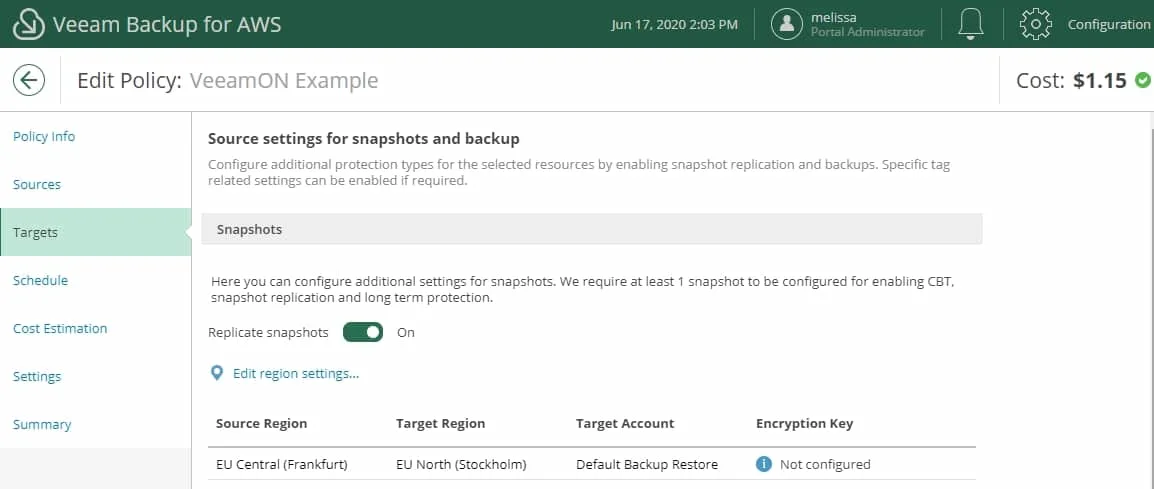 First, just turn the thing on. Literally click the on button. It is really that easy.
Next, you'll just need to select a target region and target account if applicable.
As we are looking at different aspects of our data protection policy, it is also easy to see in the completely revamped UI. You can quickly see the status of your last data protection runs, and click on a protection policy for more detailed information.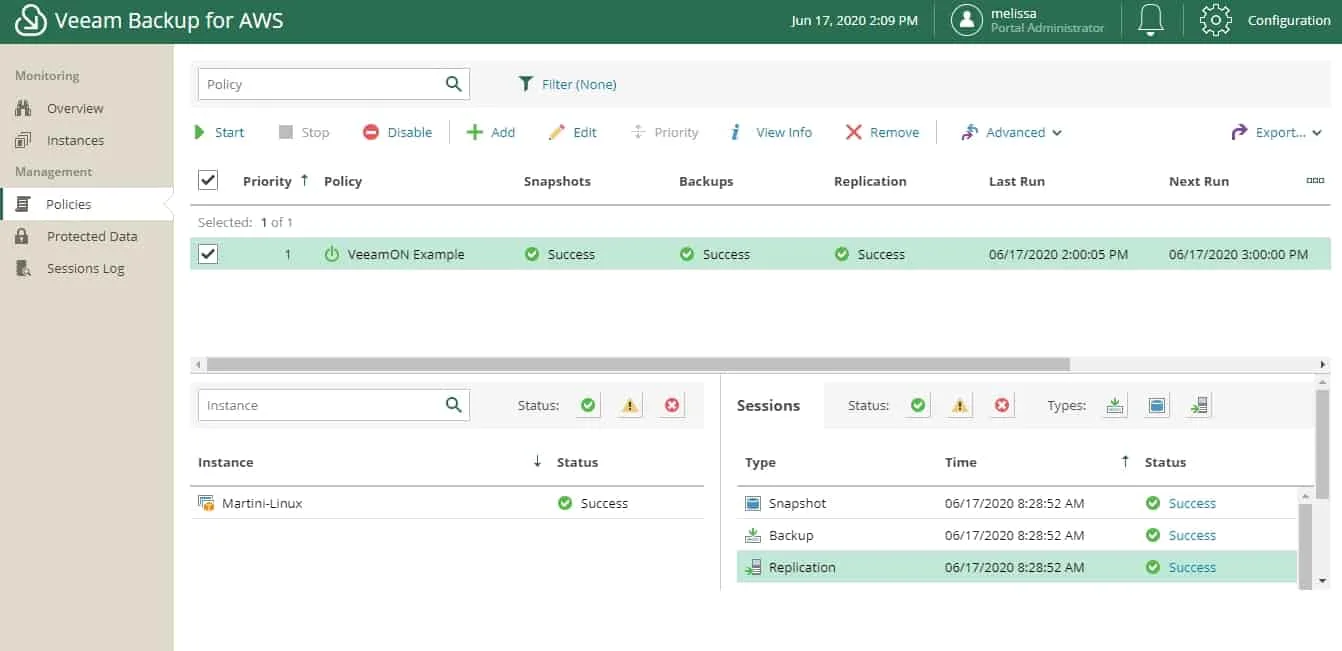 Once you click on the policy, you will see a session log to get more information on how things are running in your environment. You can scroll through that sessions list to see everything that has happened, and even sort it by Snapshot, Backup, and Replication by clicking the buttons next to Types.
You can even take a closer look at detailed session information.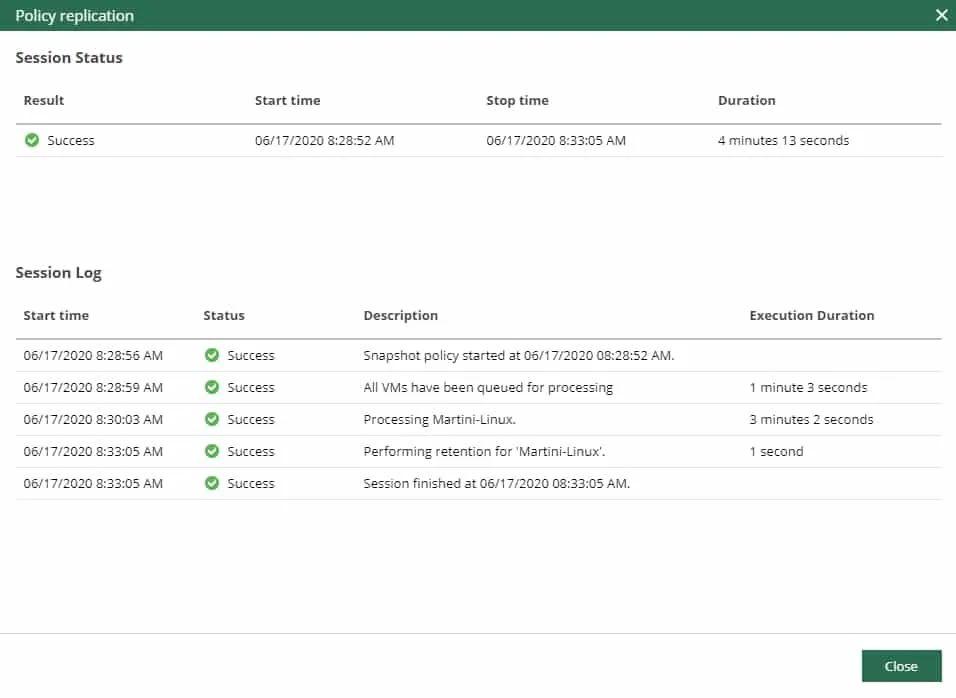 Remind you of anything? Maybe Veeam Backup & Replication? If you're familiar with Backup & Replication, Veeam Backup for AWS feels very similar, especially with the addition of the sessions information in the revamped UI.
If you aren't using Veeam Backup & Replication? No big deal, it is so easy to use you'll be up and running in no time.
While I'm not going to say the revamped UI is one of my favorite features, because there really are too many awesome enhancements to Veeam Backup for AWS v2, it is. Don't like the UI? No problem, because there is also a fully functional public API.
Veeam products are known for their ease of use, but this product takes it to the next level, allowing you the flexibility to protect your data however you need to.
The build in cost estimation also helps with that. You can easily see how much your data protection will cost you, which helps you make better business decisions.
Changed Block Tracking API Integration
AWS recently released their changed block tracking API, or CBT API. Veeam Backup for AWS v2 is one of the first products in the wild to integrate with it, and this brings you even more cost savings, since you're backing up less data. This also shrinks your backup windows.
This means we are using the CBT API between each and every snapshot, which also ties back to harmonized scheduling.
Once again, this is a feature you probably won't realize you are even using, but it is there.
My Top Veeam Backup for AWS v2 Features
I tried to keep this list to three, but it seems to have gotten away from me.
To recap, here are some of the great new features in Veeam Backup for AWS v2.
Harmonized Scheduling
Revamped, streamlined, amazing UI
Fully functional public API
Snapshot Replication
CBT API Integration
Cost estimation that takes all of these things into account
Okay, I blew way over three favorite features, because Veeam Backup for AWS v2 is just so jammed packed with cool enhancements.
There's more than that is in this list, believe it or not. Be sure to check out some other great resources:
5 New Veeam Backup for AWS Features You Need to See by Niels Engelen
Don't forget, you can use Veeam Backup for AWS v2 for FREE for up to 10 instances, just deploy it from the AWS marketplace and get started today.
One final note, I would be remiss if I didn't mention that you can connect your Veeam Backup for AWS repository to Veeam Backup and Replication, just like you can with Veeam Backup for Microsoft Azure.
This means you're seconds away from ultimate portability of your workloads. With Veeam Backup & Replication you can restore AWS workloads right to your on premises environment, or even move it to Azure.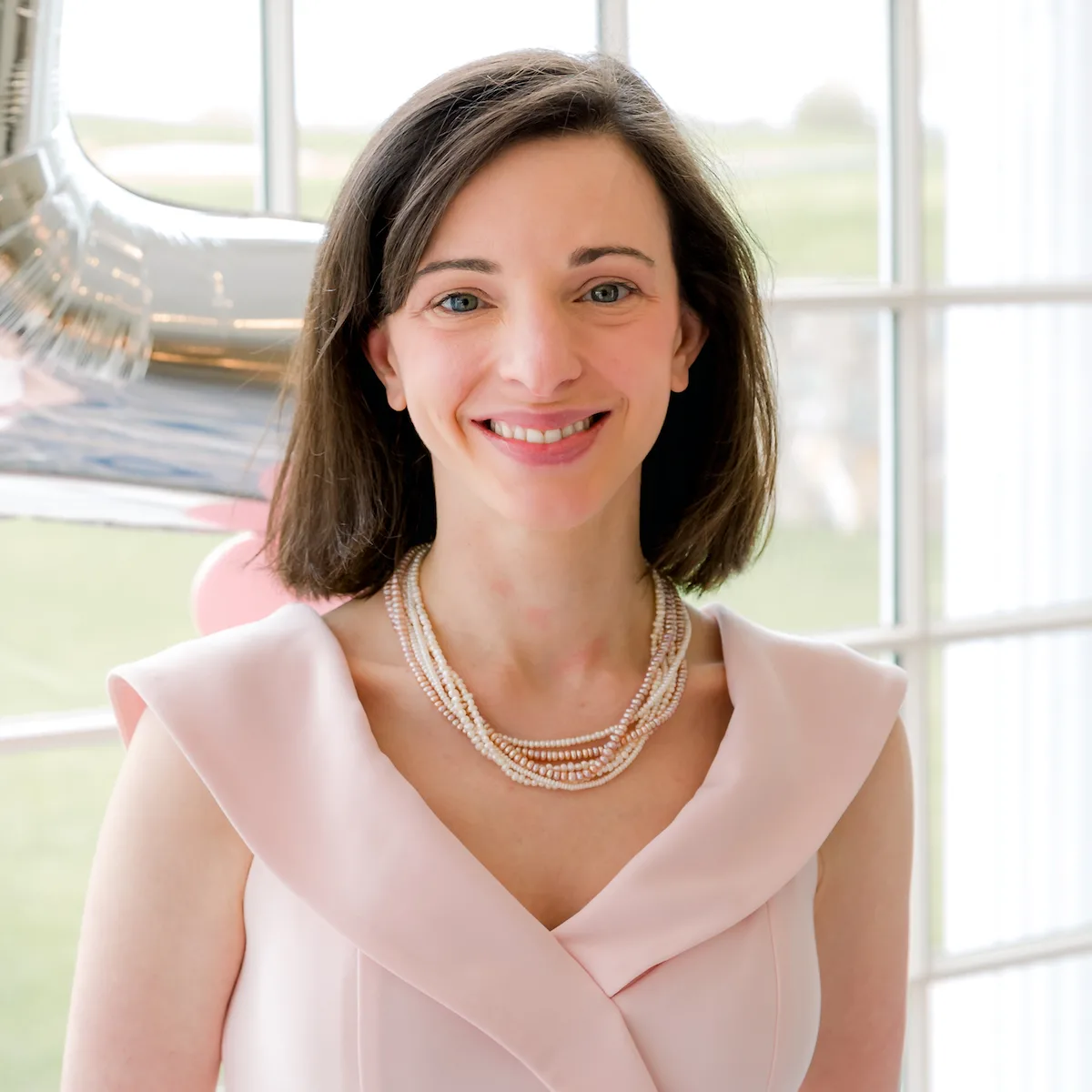 Melissa is an Independent Technology Analyst & Content Creator, focused on IT infrastructure and information security. She is a VMware Certified Design Expert (VCDX-236) and has spent her career focused on the full IT infrastructure stack.